Technology, as we know, it is constantly evolving and we must keep going with its developments to ensure to get all the opportunities. For this reason, DIGI-Paint project is intended to provide, with the support of pedagogues, trainers and developers, more digital instrument to enable educators to keep up with the times and improve distance learning.
This project proposes the creation of several products to which teachers, trainers and company tutors will have free access: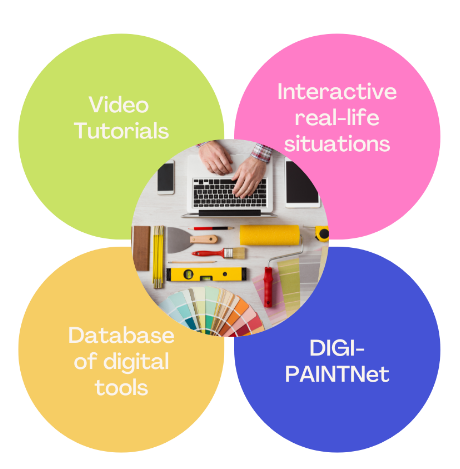 Video Tutorials. These videos show creatively the concepts expressed in the Pedagogical Guidelines for Instructors created within the project and downloadable here.


Interactive real-life situations. The aim is to give the student the opportunity, through VR and AR, to learn dynamically and engagingly how to deal with a specific painting and decorating scenario.


Database of digital tools. This database will collect existing digital tools used by teachers, trainers and tutors throughout Europe to enhance digital resources used in painting/decorating.


DIGI-PAINTNet. This Hub will promote sharing information and good practice between educators. It will be an innovative resource in the field of painting/decorating.

All that, without forgetting an important platform already available to the trade professionals, the InPaint platform. Discover it by clicking here.
With all these tools made available, DIGI-Paint aims to be a concrete proposal to support educators in distance learning.
Source: https://digipaint.eu/