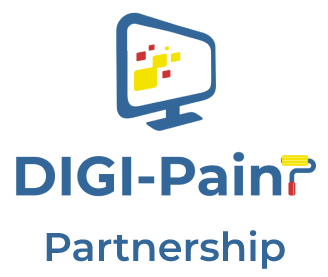 The partnership, coordinated by UNIEP, is composed by 7 partners from 6 countries (LU, IE, BE, FR, IT, PT), each with specific responsibilities in digital and educational technology, pedagogical practices, deep experience in the Painting and Decorating sector (schools and companies) and networking.
Find out more about their missions and activities here!
Coordinator: UNIEP (Luxembourg)
The International Association of Painting Contractors (UNIEP) is a Private Professional Association representing 60,000 businesses and employing over 240,000 contractors through its 22 member associations in 16 European countries. Since 1953, UNIEP is the voice for painting contractors and allied trades and the authoritative trade association representing Professional Painters. UNIEP, as coordinator, is the partner responsible for the management of the project, communication among partners, quality assurance with IMANOVATION and dissemination plan.
1) European Painting Partners (Belgium)
Through its experience in organizing and managing communication operations or training activities in painting and flooring and more generally ancillary domain, EPP is working on the different organizational aspects of informing finishing professionals on practices in line with the techniques and regulations that affect them. EPP is the privileged platform for Painters/Decorators companies in the Construction sector and their manufacturers to strengthen relationship with the Education and VET systems and to provide quality in the education and training. EPP manages the unique European Open Access Portal entirely dedicated to the Painting and Decorating Sector and periodically updates all the existing useful tools and resources for the Painting and Decorating Stakeholders, including a section of the platform dedicated to the teachers, trainers, and company tutors.
2) Technological University Dublin (Ireland)
The TU Dublin, Ireland's first Technological University, is where career-focused students, dedicated staff and academic excellence in science, arts, business, engineering, and technology converge to create the leaders of tomorrow. TU Dublin offers an inclusive and open learning experience with pathways to graduation, from Apprenticeship to PhD. TU Dublin is the only centre in Ireland that provides the advanced phases for the off the job training for the craft trade of painting and decorating.
3) Formedil – Ente Nazionale per la Formazione e l'addestramento professionale nell'Edilizia (Italy)
FORMEDIL, the National Training Institute in the Construction sector, is managed by social partners: ANCE (National Association of private construction companies); Feneal-UIL, FILCA-CISL, FILLEA-CGIL as Trade unions ANAEPA Confartigianato, CNA Costruzioni, CLAAI, Casartigiani FIAE, Confapi ANIEM, AGCI, CONFCOOPERATIVE, LEGACOOP, different national associations from employers. Structured on a network of 103 schools in construction, FORMEDIL is the national coordinating body for vocational training in the construction sector. The main activities of Formedil are centred on promotion, coordination, dissemination, implementation of training programmes, and the realization of didactic materials, train trainers, studies and design and implementation of the skills inventory.
4) Imanovation (Portugal)
Since 2012, IMANOVATION (a private-sector organisation based in Lisbon, Portugal) brings together a network of international and national experts in vocational education and training (VET) and develops activity at the European level. The company provides expert support to public and private sector companies in relation to qualification, VET project management and evaluation, research, and evaluation studies in the VET field with recommendations for action.
5) EPISTEMES – La Technologie éducative (France)
EPISTEMES is a start-up specialized in educational technology (or EdTech) based in the South of France. Created in September 2017, following the association of two respective experts in human and cognitive sciences and virtual imagery technologies, EPISTEMES reflects on the consequences of the impact of new technologies and digital data on the social and private life of individuals, in particular in the field of training and education. Epistemes creates virtual and augmented reality technologies to offer digital solutions adapted to the different learners' typologies.
6) Centre de Compétences Parachèvement (Luxembourg)
The Centre of Competences was created in 2015 as a non-profit organization by the Luxembourg crafts federation (Fédération des Artisans) and constitutes a training centre for the craft trades of painting, carpeting, metal works amongst others. The Centre focuses on technical engineering and pursues a threefold objective: to establish a coherent and integrated system of continuous sectoral vocational training, to ensure sectoral technological monitoring, to invest in the solidarity economy. The proposed training system is aimed at employees of craft enterprises and includes basic sector training, development, and high-level specialisation.
Stay tuned for the first products to come by end June!
Source: https://digipaint.eu/